The Sebring Chamber of Commerce is a very busy office and volunteers are the lifeblood of our organization. They work under the direction of our office staff, and help with a variety of clerical tasks and event support, year round. From greeting tourists, to answering phones, filing, and preparing mailings, our volunteers are a special group of community-minded individuals who enjoy being in the hub of activity. We sincerely appreciate their contributions and value their time and dedication.
Volunteering at the Sebring Chamber is a great way to be involved in your community, make new friends, stay active, and have fun! We always welcome new additions to our volunteer pool. Volunteers may commit to a set schedule, or can make themselves available on an on-call basis. To learn more about volunteering and to take a tour of our fine facility, please contact our office at 863-385-8448.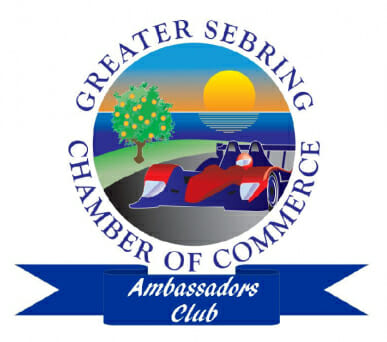 10 Reasons to Join the Ambassadors Club!
Develop new business contacts & leads.
Represent your business at grand openings & ribbon cuttings.
Get a sneak peek at upcoming Chamber events before they launch to the general membership.
Eligible for "Ambassador of the Year" award, presented at the Annual Banquet.
Receive recognition at each monthly luncheon & annual Banquet.
Get first dibs on reserving your spot in Chamber events with limited availability.
Market your business & events at monthly meetings during roundtable discussion.
You'll get out what you put in!
Exposure through the press releases from ribbon cuttings.
Create a strong network with fellow members of the club.
Meetings are held on the 3rd Wednesday of the month at 8:00am at the chamber!
Ambassador Program Description & Guidelines
Purpose
Sebring Chamber Ambassadors serve as the welcoming arms of the Sebring Chamber. The Ambassador Club is a membership outreach and retention program of dedicated volunteers who introduce prospective members to the Sebring Chamber and provide support and mentorship to new members during the first 6 months of their membership.
Benefits
Sebring Chamber Ambassadors have unparalleled opportunities to build great business relationships, not only with each other, but with new and prospective members. You will see Ambassadors at ribbon cuttings, grand openings, and every other Sebring Chamber networking event and function. In other words, the Ambassadors also bring the fun!
Monthly Meetings
The Chamber Ambassadors Club meets once per month, with meetings on the third Wednesday of each month at 8:00 a.m. in the Sebring Chamber Conference Room. You'll have a chance to pair yourself with new members in which you're interested in making contact. You'll also have the opportunity to report the results of the previous month's new member visits. You're welcomed to work with as many or as few new members as you like—it's all about your comfort level.
The monthly meetings are also an opportunity for sneak peeks to new programs not yet introduced to the general membership. We'll also give info about grand openings and ribbon cuttings in town, give you an upcoming calendar of events for things you may be interested in. Plus, you'll have a chance to update fellow Ambassadors of things happening in your business.
Reaching Out to New Members
Face-to-face interaction is cornerstone of networking, and networking is key to the Chamber. We ask that you make an initial face-to-face contact with the newly assigned member within 7 days of the Ambassador meeting. If you find that your schedule won't allow you to reach out during that timeline—no problem! Just contact the Chamber President & CEO, and we'll be sure to reassign that business to another ambassador.
You won't go to meet your new member empty-handed. We'll provide you with a few goodies: Sebring Chamber membership plaque for them to display in their place of business, list of membership benefit, and a copy of the latest Welcome Guide & Membership Directory (all this info will be provided to you when the member is assigned at the Ambassador meeting). You'll also review the New Member Visit Checklist with them, and note any corrections or changes that need to be reported to the Chamber.
You'll never be asked to step outside your comfort zone! We suggest pairing with a seasoned Ambassador (or with the Chair of the Ambassadors) for your first few new member visits to get in the swing of things.
Getting New Members Involved
The hardest part for a newly joined member is getting them involved and meeting new people and members. It can be hard to take the plunge, so the Ambassadors are there to make it easier! Invite the new member to upcoming events (luncheons, mixers, special events, etc.) and offer to meet them there or save them a seat. Be sure to introduce the new member to other Chamber members so they feel welcome.
We find that reaching out these new members once a month via email or phone is a great way to keep them engaged. Try to reach out for 6 months to give them time to acclimate to the Chamber. It will also give you a chance to gather any feedback on how the Chamber would improve.
Recruiting New Chamber Members  
We hope that you're excited about what Chamber membership can do for you. It opens doors, creates networks, and improves your business, all for about $20 a month! When you're out and about in the community (we already know you're a mover and a shaker!), ask if the business is a Sebring Chamber member. If they're not, please share the awesome benefits available to them as a member. Membership packets are available for pick-up during the Ambassador meeting or anytime at the front desk.
Info About the Chamber  
While Ambassadors should be familiar with the Chamber to answer most routine questions, Ambassadors are not expected to be experts in all Chamber matters. Please contact the President & CEO so we can get the new member the info they need.
Become an Ambassador Today
For more information on becoming an Ambassador, please contact Paige Cowell, Membership Services and Events Administrator, at 863.385.8448 or email memberservicesandevent@sebring.org .