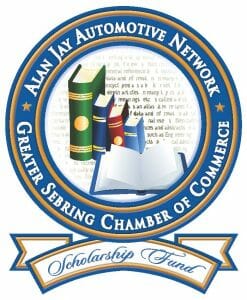 Not only does your donation go directly to local senior high school students, but your dollar doubles! All funds donated will be MATCHED by Alan Wildstein of the Alan Jay Automotive Network. 
The application for the 30th Alan Jay Automotive Network and Sebring Chamber Scholarship is now available! Applications will be due no later than March 17th and is open to all Seniors from Sebring High School! 
Thank you to the many businesses/individuals who donated at the 2022 Alan Jay Automotive Newtwork and Sebring Chamber Scholarship! With Alan Jay's match, we were able to raise over $24,000! Thank you to Lakeside Dental Arts for sponsoring lunch for everyone to ensure that 100% of the proceeds raised go directly to the scholarship fund. We would also like to thank Lani's Rentals for Weddings and Special Events and Sealed with a X for decorating our banquet and putting an extra special touch on making it look beautiful! 
Congratulations to our 2022 Scholarship Winners
Heather Stewart- $3,000 Scholarship Recipient
Alyson Smyth-$3,000 Scholarship Recipient 
Emma Rowe-$1,500 Scholarship Recipient 
Caden Watts-$1,500 Scholarship Recipient 
Amber Elder-$1,500 Scholarship Recipient 
Alan Jay Wildstein, Owner of Alan Jay Automotive Network - pictured with all recipeients